Woman Leather Electric Heated Gloves
-51%
Women's touch gloves: fine touch gloves, touch screen fabric, soft texture, sensitive touch, stylish style, add feminine charm. Whether you are walking, cycling, driving, this glove is your choice for autumn and winter, it uses medium thickness Coral velvet lining, with a small elastic screw on the wrist, a pair of touch gloves with temperature and female confusion.
Battery/Charger  The battery capacity is 2500 mAh. Two 2500 mAh batteries and  one-to-three dual-head charger can charge two batteries at the same  time. The charger can also directly connect the gloves to heat.
Thick and velvet lining, thickened plus velvet lining, inner thickening  plus velvet, plus heat to keep warm, double escort you too warm winter.  Up to 48  degrees high temperature heating: using a new metal heating wire, the  heating temperature is high, the peak value can reach 48 degrees.

Continue to heat for 3-4 hours, the battery is 2500 mAh rechargeable battery, for your travel escort.
The battery is placed on the back of the hand and is easy to wear and flexible.
When placed, the battery is completely hidden behind the back of the wrist and is comfortable to wear.
Charge heating gloves instructions:
1. This product uses two 7.4v 2500 mAh lithium batteries, put the battery  in the pocket and the DC line in the glove pocket. After 3-5 minutes,  the temperature inside the glove can reach 38-50 degrees, and the  heating time can last 3 - 4 hours or so.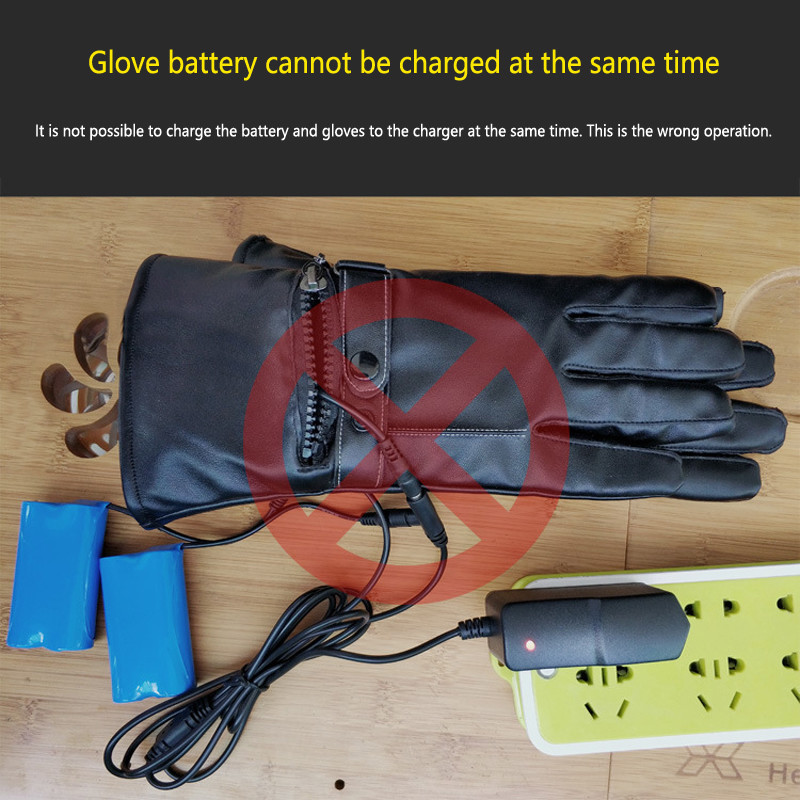 2. When the glove has no temperature, take out the two batteries and  charge the charger for about 4-6 hours, until the indicator light on the  charger changes from red to green, indicating that the lithium battery  is full. If you are not in a hurry, you can make the battery After charging for a while, the new battery is best filled for about 8-10 hours so that the battery life will be longer.
3. At the same time, this charging and heating gloves are also designed  with touch screen function. All fingers can touch the screen. It can  realize wearing gloves, playing mobile phones, answering calls, and more  user-friendly design.