Astronaut Pet Carrier
-51%
Your cat wants to be in this backpack!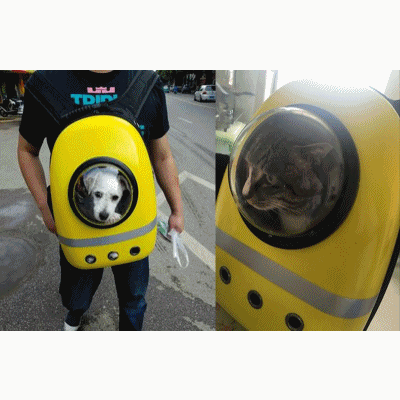 Have you ever gone on a beautiful nature walk and wished your cat could come with? Of course you have! Now, with a new pet carrier, your precious cat can enjoy the beauty of the outdoors–from the safety of a backpack.
U-pet has developed a way to "give your pets a window to the world"– U-pet carriers! Available in a variety of sizes, types and styles, there's a perfect carrier for any pet parent.
Choose your carrier, throw in a spacious, 3D viewing bubble, an interchangeable mesh window and you have a recipe for a seriously adorable adventure.
See what one real-life pet parent has to say about her new U-pet carrier, below:
You do not have to move your cat or small dogs in a prison-like cell while you are taking him/her to somewhere. You can do it with style with a cute character-shaped bag while your pet is enjoying the view. Here is the Pet Carrier.  
The Pet Carrier has one replaceable transparent capsule cover and one replaceable meshed black cover coming with the package. It is a hard-cover pet carrier and breathable from the ventilation areas all around the carrier. The ventilation holes are, literally, all around the bag, top, sides and on the front. There are not any ventilation holes on the bottom as you expect. 
The outer layer of the Pet Carrier is made of food-grade polycarbonate and the transparent capsule cover is made of high density scratch-proof acrylic. The inner part of the bag is covered with Oxford cloth to give your cat/dog a more comfortable space. There is a sponge layer on the back side of the backpack to increase the comfort of both you and your pet, isolating you from each other.
Features include:
Clip inside to attach a leash
Bubble attachment
Screen attachment
One side pocket
Adjustable straps
Mesh sides and air holes in the front (seriously, we wouldn't sell something your fur babies couldn't breathe in)
Mat, attached by velcro
Note: The Pet Carrier is not suitable for big to medium size dogs as you might expect from the dimensions. Please consider the size of your pet prior to ordering.
Dimensions: 32 cm x 29 cm x 42 cm ( 12.6" x 11.4" x 16.5" )
Weight: 1.5 kg
Maximum Weight: 13.5 lbs / 6 kg for Cats | 11lbs / 5 kg for Dogs
Closure Type: Zipper
Material: Polycarbonate + Acrylic + Oxford cloth
The harder shell also works great for strapping this style into a car as a car seat.
Eco-friendly design in four colors! Take your cat to see the world!