Man Waterproof Beard Apron
-51%
Ever walk into the bathroom after your significant other or housemate has been shaving and found lots of hairs all over the sink?
Well, the Shaving Apron is here to help!
TRIM BEARD NOT SWEEP THE FLOOR!!!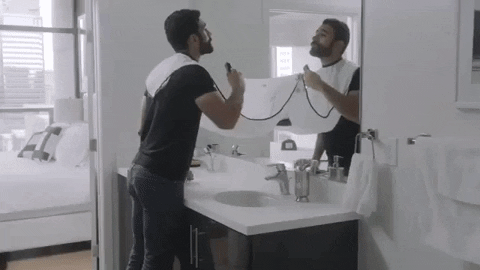 The Shaving Apron makes it easy for guys to shave and tidy up after themselves. Simply wrap one side around your neck, attach the suction cups to the mirror and shave away. The apron will collect all the hairs, meaning you can easily empty them into the bin after.
No more hair all around the sink, wives, girlfriends, and flatmates rejoice.
This three-foot-square mat attaches to your mirror with suction cups, covering up the sink and countertops. As you trim, the hair falls onto the non-stick fabric instead of all over your bathroom. It just takes a few seconds to set up, but it saves a ton of time in cleaning up. 
When you're done shaving or grooming, the clippings simply slide right off into the trash. It's so easy. And it works just as well for trimming hair on your head, too. 
It's the perfect accessory for men or women who want to keep a clean look and a tidy bathroom.
KEY FEATURES:
1. Saves your time to clean the floor and make you relaxed and comfortable.
2. Folding, easy to use and store at home.
3. Fit the neck and fasten it with the tape fastener.