Waterproof Solar Power Bank 5000mAh
-51%
 5000mAh Waterproof Power Bank Solar
If you are always on-the-go, traveling or on outdoor adventures, the 5000mAh Waterproof Power Bank Solar will be very useful for you! Have an emergency power bank anywhere you go so you can charge all your gadgets and devices. Charge this power bank under the sun and you are good to go again! It is very handy, lightweight, waterproof and shockproof!
Dual USB Charge Ports 
Comes equipped with two USB charging ports to simultaneously charge multiple devices in case of a power outage
. 
High Quality 
Eco-friendly, rechargeable battery will keep you in touch with the world even when you're hiking, camping, or traveling. Capable of charging an iPhone 5s up to 3 1/2 times! 
Compact Design 
Small enough for an active lifestyle and tough enough to survive the great outdoors. That's why it was manufactured to be waterproof, shock-resistant, and dust proof. 
Easy to Carry 
Use the hook to hang the solar charger from your backpack, use the sunrays to charge the battery and reduce pollution. 
LED Flashlight 
Activate the built in LED flashlight by double-clicking the on/off button and hang it from your tent to enjoy reading or story telling with your friends on camping trips.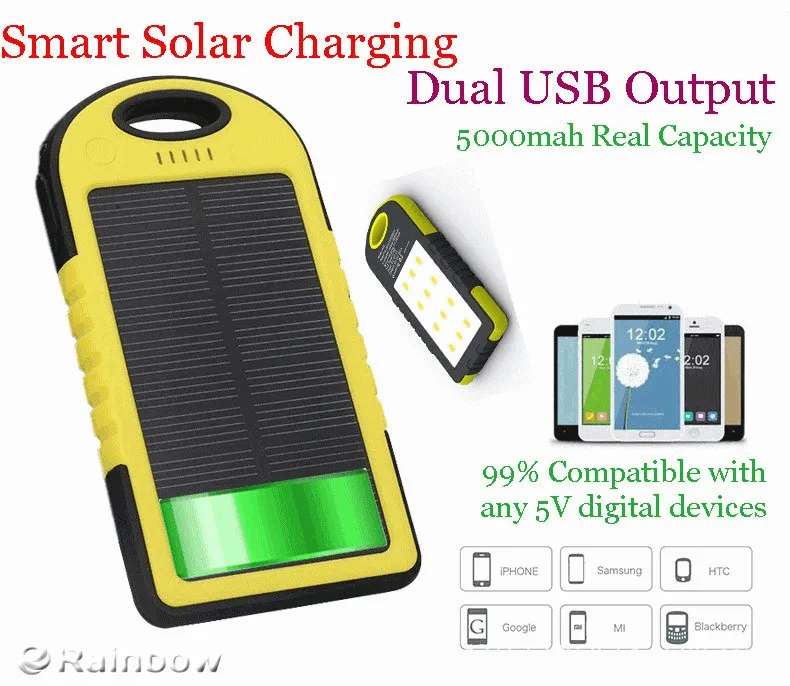 High Capacity 5000mAh Lithium Polymer battery can charge an iPhone 6, Galaxy S7, and other smartphones. Solar energy allows the battery to charge on its own during an emergency and power outage.
Dual USB charging ports enables you to charge TWO devices at once! Charge one device at 2.1A or charge two devices simultaneously at 1 amp.
Waterproof, Dust-proof, and Shock-Resistant features make it the perfect solar charger for hikers, travelers, and adventure seekers. It's compact design makes it the size of an iPhone 6 and includes a hook to hang the solar charger from a backpack. 
LED Flashlight - easy to use LED flashlight is great for any night emergency.
Future:
Material: Polycrystalline Silicon
Size: 14.5x7.5x1.3cm
Max. Power: 1V 35mA
Package Weight: 0.311kg (0.69lb.)
Package Size: 20cm x 12cm x 3cm (7.87in x 4.72in x 1.18in)